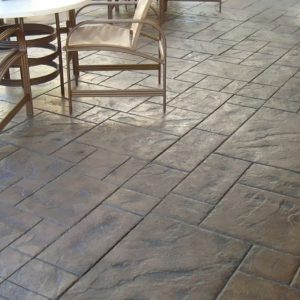 Beautify your outdoor landscape by benefiting from our stamped concrete services. Stamped concrete mimics stones like flagstone, brick, tile and slate. It's the perfect way to give your driveway, pool deck and patio a stylish and elegant look on a budget!
Stamped concrete can instantly add a touch of color, glamour and design to your outdoor landscape while retaining its authentic and natural appearance. If installed properly, using the right finishing methods and sealants, stamped concrete surfaces can last for years—longer than the other expensive options in the market. And this is what you can expect from us.
At Affordable Concrete, we are experts in stamped concrete installation. From selecting the right patterns, colors and designs to correct installation, we can assist you with all and with complete satisfaction.
When it comes to selecting designs, colors and patterns for stamped concrete, it is recommended to choose a combination that nicely blends with and matches the other elements like textured concrete or tiles at your home or office.
At Affordable Concrete, we offer you a large variety of colors and accents to select from. Some of the most popular patterns include hexagonal tile, running bond brick and worn rock.
Stamped Concrete Procedure
The procedure for stamped concrete differs from other concrete procedures. It can be divided into three steps:
Step 1—Base color addition
Step 2—Accent color addition
Step 3—Pattern stamping on the concrete surface
After the completion of these three crucial steps, you will get stamped concrete with proper shape and color. The final shape attained through the procedure will be similar to the natural building material. Not only that it will be long lasting, but will also strongly resemble natural rocks.
Top-Notch Stamping Services
At Affordable Concrete, we take pride in being the top concrete contractor choice among both residential and commercial property owners in Texas for stamped concrete. We have established a stellar market reputation, based on our quality workmanship, top-notch services and award-winning customer support. With us, you get high end and professional grade concrete stamping services each and every time you hire us.
Get in touch with us today to discuss your needs and we'll be happy to serve you. Our team will provide you with a free project estimate right away.