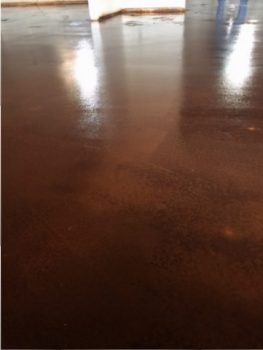 Worn out and dull concrete structures like walls, slabs, and patios look unattractive and can also lower the value of your property. Unfortunately, property owners don't pay much heed to the dull appearance of their concrete patios and other structures when redesigning or renovating their outdoor landscape. And this eventually has a huge impact on the comfort of their space and the overall landscape design appearance.
In such a scenario, the best way to quickly and cost-effectively enhance the visual appeal of your neglected concrete structures is to invest in concrete staining and refinishing services. Concrete stains are extremely versatile—allowing you to create any look you want, as per your design taste and budget.
Stains give you the power to add subtle hints of bolder design accents colors and custom graphics. More importantly, it can be easily and quickly applied to both existing and new concrete floors. They also work well with concrete overlays.
Furthermore, as stains tend to deeply penetrate into the concrete, they are fade-resistant and produce permanent color. This means that the color will not peel away or flake off.
Professional Concrete Staining and Refinish Services
Specializing in concrete staining and refinishing services, Affordable Concrete can instantly revive the look of your worn out concrete. We are a trusted concrete contractor providing home and commercial property owners quality products and professional services.
Through exemplary concrete staining and refinishing services, we can instantly make your concrete patios, driveways and decorative concrete the highlight of your landscape design. By leveraging on our wealth of experience, we will use the best method to appropriately stain your desired structure. It is important to understand that staining is quite different for each structure, such as floors, walls, decorative pieces and door frames. Our experts know this very well and handle each project to perfection.
At Affordable Concrete, we extend our services to both residential and commercial property owners in and around Texas including areas like Spring, the Woodlands, Conroe, Tomball and Magnolia.
Get in touch with us today to discuss your concrete staining and refinishing needs. Our team can provide you with quality guidance and professional assistance. We can make your old concrete structures look as good as new.